Composting rabbit manure is a simple way for recycling the rabbit litter. After the composting, it is alternative for you to make them into fertilizers or animal feed. For commercial rabbit poop compost making, there are different composting machines with different technologies for your reference. These compost making facilities are helpful for your organic rabbit poop compost manufacturing. According to your different production capacity, we can recommend you the most suitable machines for your plant. Meanwhile, if you want to have some other machines for better manure fertilizer processing, we also have many equipment configurations for you.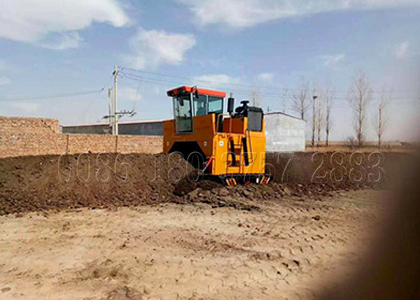 Composting, the best way to make fertilizer from rabbit manure
In your rabbit farm, there are large amount of rabbit poop to deal with. It is necessary for you to know the value of rabbit litter. Actually, the rabbit manure is good material for producing animal feed or organic fertilizers. While, the fresh rabbit waste has some parasitic ovum and harmful bacteria. It is important for you to compost them firstly. Composting rabbit manure, the harmful bacteria and some other harmful things will be killed. And then it is alternative for you to make feed or fertilizers.
For your information, if you use the composted organic rabbit manure for making animal feed, you should not feed too much. You can mix the rabbit waste feed with some other animal feed.
Do you want to know more information about the rabbit manure recycling?
How to compost rabbit poop in organic fertilizer making business?
Composting rabbit manure for organic manure fertilizer manufacturing, it is necessary for you to know what preparations you should do. For your rabbit poop compost making requirements, there are two composting methods for you to choose. You can compost them by windrow composting. And it is also available for you to build some grooves for trench composting.
If you want to compost rabbit litter by windrow composting, you should rank the rabbit manure materials into windrows. And then turn them when the temperature of organic composts becomes high. The high temperature will kill the harmful bacterial in the rabbit manure. While, if the temperature is too high for a long time, the beneficial bacterial will be killed, too. Thus, it is necessary for you to turn them regularly for aerobic fermentation. Our self-propelled organic manure compost turner equipment is applicable for efficient composting. It can help you compost the rabbit manure in 25 days.
In the same way, if you have large amount of rabbit manure to compost, the trench composting method is more economic. Utilizing this method for composting, you had better build grooves for collecting the rabbit litter. There are various rabbit manure compost turning machines with different production capacities for your reference.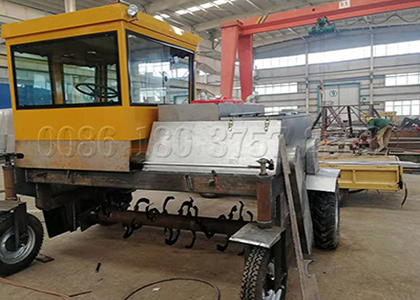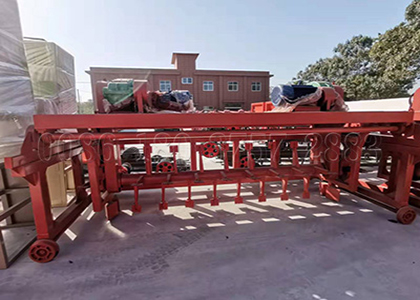 Recommended capacities for you to start up your rabbit manure composting business
For your organic rabbit manure composting, we can provide your different composting machine. They can meet your different requirements on the production capacity. Then how much rabbit poop you should collect for composting? Which equipment is suitable for your rabbit manure composting capacity?
Small capacities rabbit manure throughputs (6 ton/ day minimum)
Generally, utilizing our compost turner for composting rabbit manure, you had better have 6 ton rabbit manure per day. Our forklift type composting machine can turn organic rabbit poop 500kg per hour.
Medium seizes rabbit manure processing capacities
While, if you have more waste to compost, there are crawler, moving and groove type rabbit poop composting turner for your reference.
Large capacity rabbit farm manure management
While, for your large scale rabbit waste composting, the wheel type trench turner is a good choice. It has the largest compost turning capacity among all the composting turner machines. Besides, there are also organic rabbit manure fermentation pot for you to ferment manure automatically. Especially, this fermenter can ferment 100m³.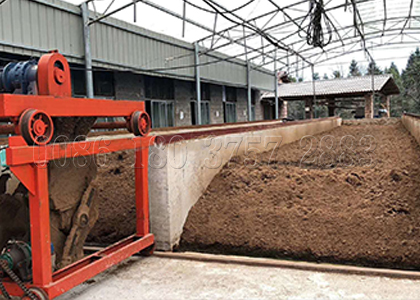 Equipped with the following compost machines, you can compost your rabbit manure more economically
In your small scale rabbit poop composting plant, it is suitable for you to apply our self-propelled compost turners. The self-propelled type turner machine is easy for you to operate. It only needs one worker for driving it, controlling it for moving forward, backward, turning around, and turning the organic rabbit waste manure windrows.
Our crawler type rabbit poop compost turning machine is popular among our customers. It uses advanced designs for ranking the organic waste materials better when turning. And if your plant is small, it is suitable for you to use our moving type manure windrow turner machine for composting rabbit manure. This machine has small size. Moreover, it is more convenient to move and turn around. Meanwhile, it will not take you too much place. Especially, its production capacity is as same as the crawler type one but cost less.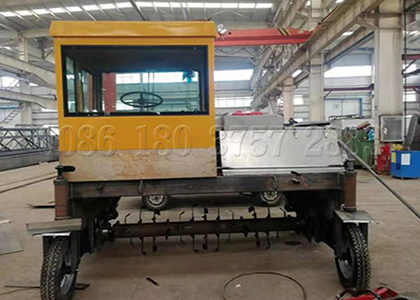 After composting, what else can you do to commercialized the rabbit mature composts?
After composting rabbit manure, it is applicable for you to process the rabbit manure compost fertilizers into fine powder or granules for selling. Here you can see the detailed processes for your rabbit manure fertilizer business.
Ways to make fine rabbit manure powdery composts
For your powdery rabbit poop fertilizer making, you only need a manure fertilizer pulverizing machine. And then you can get fine organic manure fertilizer powders. There are various pulverizers for you to choose.
Rabbit manure pellet composts production process
For your organic rabbit manure compost fertilizer granules manufacturing, we have granulation line for you. You can pelletize the pulverized organic manure powder. It is applicable for you to use our pan type manure granulator or new designed organic rabbit litter fertilizer granules making equipment. These two granulators are high-performance for pelletizing organic fertilizers. And then you can dry, cool, screen and coating them for better fertilizer granules processing.
Packing finished rabbit manure compost fertilizer efficiently, the final step to make rabbit manure commercial fertilizer
Finally, in your commercial organic rabbit manure fertilizer making business, it is important to improve the packing efficiency. Our rabbit manure fertilizer bagging machine can pack your fertilizers automatically. It employs PLC technology for weigh and pack automatically, highly improve the packing efficiency. Meanwhile, you can also equip with our palletizers for ranking the packed fertilizer bags conveniently.