Disc granulator can process your organic fertilizer powder into granular. Manure disc granulator is widely used for manufacturing organic manure granules. It employs wet granulation technology for processing powders. The moisture content can be about 25%-30%. Meanwhile, for better granulating effects, Shunxin uses advanced designs on each component. What's more, there are many specifications for your reference. You can apply it on many fields. Especially, according to your different production capacities, materials, and applications, we can provide you customized machine at the best price.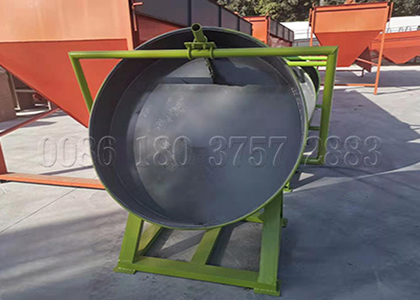 What is disc pan granulator? What is it used for?
Disc granulator is an equipment for turning your manure fertilizer powder into granules. You can use it for many production requirements. For example, for your chicken farm, it is applicable for you to use this machine for making chicken manure fertilizer granules. It can help you turn chicken waste into commercial products. And then you can make profits from it. Meanwhile, Shunxin provides you many specifications for your different production needs. What's more, we can also customize for you.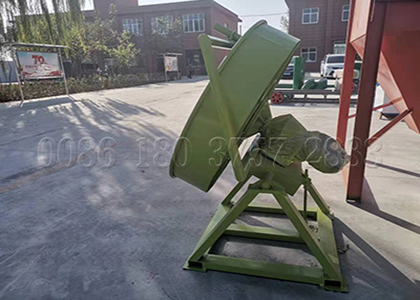 How does the pan granulator work to make granular manure?
This manure disc granulator takes advantages of centrifugal force for pelletizing. There is a rotating disc for pelletizing your manure fertilizer powder. It adopts wet granulation technology for granulating. Thus, it is applicable for you to add some liquid as binders when granulating.
When you add powdery manure into the disk pan granulation machine, the rotating pan will pelletize them until the granules is big enough as your requirements. And then the granulated manure fertilizer will be out from the discharging port. Moreover, the disk tilt angle of Shunxin manure pan processing system is adjustable. By changing the angle, you can control the size of finished manure pellets easily.
What disc pelletizer designs do we use in the pan granulation process?
For processing your manure fertilizer granular efficiently, Shunxin employs delicate design when manufacturing disc pelletizer. These designs not only prolong the service lifetime of the machine, but also improve your production efficiency.
High quality materials. We use U-steel on the body frame. So, you do not need to worry about the stability of the animal manure fertilizer disk granulator. It makes sure that it can work stably when granulating. Besides, our pellet disc adopts multiple steel plate. Using this material, the disc pan will be impossible to be out of shape.
Reasonable structures. The bottom of the plate granulator supports the whole body. The regulating part connects the bottom and body frame together. While, the driving part drives the disc rotating for pelletizing your manure fertilizer powder. Meanwhile, there are three outlets for discharging conveniently.
Adjustable granules size. We employ advanced design for you to adjust the granular manure conveniently. You can use the gasket for adjusting the disc tilt angle. And then the manure granules will also be changeable. It is suitable for you to adjust the angle according to the granulating effects.
Delicate devices. There is flanged edge on the disc for avoiding the pelleted products damaged. It also makes sure the beautiful appearances of products. Besides, the spraying device on the pan is also helpful for controlling the moisture content of manure powder. Especially, because of the wet granulation technology, there may be some materials sticks on the disk. Shunxin disc granulator has automatic cleaning system for avoiding materials wasting.
What components and parts are included in a high-performance disk pelletizer?
Shunxin disc granulator for manure granules making mainly includes four parts. These four parts work together for granulating your powdery manure fertilizer well. They are pelletizing disc, regulating part, driving part and the bottom.
The pelletizing disc pelletizes your raw materials. This part is key for making your powdery materials into granules. It rotates and the powders will be together because of the centrifugal force.
The regulating part supports the pan. Meanwhile, for controlling the size of your finished products, you can adjust its angle.
Driving part controls the whole processing of the machine. The motor and reducer work together for driving the machine.
Bottom supports the whole machine. The steady bottom promises the steady working of this machine.
What materials can you use for pelleting with the disc pan?
This disk granulator has strong adaptability in processing materials. It is available for various raw materials for granulating. There are many powdery materials you can use to pelletize. Whether the organic materials or compound fertilizer powders, this plate granulator can process them into granules effectively. Then what are common materials for pan granulation processing?
Organic manure.
It is widely used in organic fertilizer granules making plant. Our pan type manure pellet mill can granulate the organic manure well. Organic manure is rich in nutrients. Generally, the composted animal manure compost fertilizer powder is about 25%-30%. Shunxin manure pan pellet mill can process the powdery manure compost into granular. For example,
Chicken waste. Chicken waste is the most popular materials for making organic fertilizers. You can find it from chicken farm. Meanwhile, it has more nutrients than other animal waste. If you want to make chicken manure fertilizer pellet, this pan type chicken litter granulator is suitable. Besides, there are also some other chicken manure fertilizer granulators in Tondga for you.
Poultry litter. For your poultry farm, you can recycle your organic poultry litter into fertilizers. And this disk poultry litter pelletizing machine can make your fertilizers more commercial. It is a popular granulator among all the organic manure fertilizer pellet making machines.
Cattle manure. Cow makes much excrement per year. And it is available to make them into organic manure fertilizers. Shunxin disk pelletizer for your cow dung manure pellet making can help you make commercial fertilizers.
Do not know whether your materials is suitable for pan granulation processing?
Compound fertilizer powders.
Pan granulation machine is also applicable for pelletizing compound fertilizer powders. Whether you want to make NPK fertilizer granules, Urea fertilizer granules or some other inorganic granular fertilizers, Shunxin pan fertilizer granulator is suitable.
Other powdery materials.
Besides, you can also use it for processing some other powders, such as, ore, pulverized coal, cement, clinker, limestone, gypsum, clay and so on.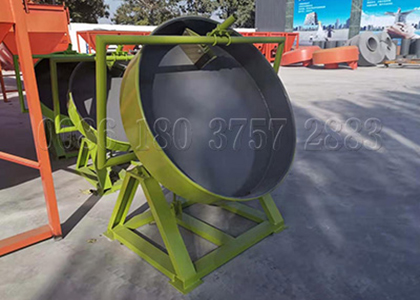 Project solutions provided from Shunxin for customers pan granulating systems
As a professional pan granulator manufacturer, there are many choices in Shunxin for you to choose. Whether for your small or large fertilizer granules manufacturing, Shunxin can provide you different solutions. Here you can see some project solutions samples.
Shunxin disc laboratory pelletizer for customers' laboratory applications
An organic fertilizer making plant want to powdery fertilizer into granules. But they should test the market effects. Thus, we recommend our smallest plate granulator. The diameter of its pelletizing pan is 500mm. The production capacity is about 0.02t-0.05t per hour. Using this machine, you can produce efficiently and conveniently. Besides, our pan fertilizer granules making machine has many specifications. Thus, if you have other requirements on the production capacity, there are many choices for you.
Chicken manure disc granulator for 6 ton per hour organic fertilizer processing business.
Our Indian customer told us that his company want to produce 6 ton fertilizer granules per hour. We recommended our SXYZ-3600 for his plant. Its diameter is 3600mm, and the height of disc pan is 450mm. Meanwhile, for improving the efficiency of whole plant, he also chose our chicken litter fertilizer drying machine to dry the granular fertilizers quickly. With this machine, the granular fertilizers became more convenient for packing and selling.
Want to get your own fertilizer production solutions? Shunxin has professional engineers for helping you.
Cow dung fertilizer pan pelletizer for small scale cattle farm waste recycling
An American farmer want to recycle the cow dung. According to his own fertilizer production requirements, our company made a special plan for him.
Because of the high moisture content of cow dung, a dewatering machine is necessary.
For his composting requirements, we suggested him that using our moving type cow dung compost turner. It highly shortened the composting time.
As for the crushing machine, he equipped with the vertical type manure grinder.
For cow dung fertilizer granules making, SXYZ-2500 can make 2 ton cow dung fertilizer granules per hour. It can process your cow dung material, whose moisture content is about 25%-30%. And its granulation rate reaches 93%. It is a high performance disk cow dung fertilizer pelletizer.
After the pan granulating, granular cow dung fertilizers are wet. Equipped with the fertilizer drying machine, the granular fertilizer can be more convenient for commercial use.
Finally, there is a manure bagging machine. The bagging machine employs advanced PLC technology. It promises high accuracy and efficiency for fertilizer packing.
Where can you use the disc pelletizer? (Recommended application fields or industries of the pan granulating machine)
The disc granulator has wide application. It is often used in fertilizer making business. You can use it for making your fertilizers more commercial. And for your animal farm, this machine is also applicable. Then how can you apply this disk plate granulator in your fertilizer production or farm?
For your commercial fertilizer making plant, it can help you make high quality fertilizer granules for better storing, transporting and fertilizing. The powdery fertilizers are so light. If it is windy, the powdery fertilizer will be blown away. Moreover, the fertilizer powder is not convenient for storing or transporting. While, with the help of Shunxin fertilizer disk granulator, you will get fertilizer granules easily.
In your animal farm, there will be much animal waste. And with this machine, the composted organic animal manure fertilizers can be fertilizer granules. Then it is alternative for you to use it for your crops or selling. Selling the granular organic fertilizers, you can get more profits.
What size of manure granules can your pan granulator make?
Generally, using our manure disc pan granulation machine, the finished granules can be 1mm to 10mm. And here we provide you to tips for controlling the size of finished granules conveniently.
The higher the disk tilt angle, the smaller the granules. It is applicable to adjust the angle from 55°~60°. For manufacturing large size fertilizer granules, you can adjust the angle to 60°. Vice visa.
The higher the moisture content of powdery materials, the larger the finished granules. The pan granulator mainly takes advantages the wet granulation technology for making pellets. And the moisture content is a key factor. Generally, if your products are larger than your ideal granules, just increasing the moisture content.
What capacities of disc granulators do we have in stock?
Shunxin manufactures many manure fertilizer disk pelletizers with different capacities. We are trying our best to meet your needs on different production requirements.
0.02t-1t per hour laboratory pelletizer for sale
Our pan lab scale granulator can be used for testing. It will not cost you much. But with this machine, you can test the granulation effects. Meanwhile, it can granulate all kinds of powders into granules.
1t-3t disc poultry manure fertilizer granulating machine for sale
This pan type poultry manure fertilizer pelletizer is more suitable for your small scale plant. It can process your raw materials 1 ton per hour to 3 ton per hour. Among all the granulation machines, this pan type poultry manure fertilizer pellet mill is the most economic one.
4t-6t manure disc pelletizer for large scale animal farm
This manure disc pelletizer has larger output. Thereupon, it has larger size and also takes more space. Most of our customers often use it for large scale animal farm.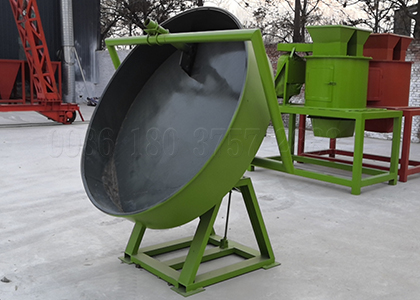 Why choose us among so many pan granulator manufacturers?
For your fertilizer granules making, a high-quality disc granulator is important. And you had better choose a professional and trustworthy plate granulator supplier. From the selection, purchasing and the after-sale service, Shunxin can provide you the best experience.
High quality materials and advanced designs for disk pelletizer manufacturing. All the machines employ national standard materials for prolonging the machines' service lifetime. Meanwhile, our engineer has advanced concept for making the pan granulation system more efficient and convenient.
Customized service for your different granules production requirements. Because of customers' different requirements, we have customized service. It is available to get a manure pan pelletizer according to your ideal production capacity, materials, colors, etc. We try our best for meeting all your requirements.
Professional solutions and plans for your own plant. Because of the differences of each fertilizer making plants, Shunxin engineers can make a plan for your own needs. Whether you want to equip with the whole production line or some other equipment configurations, we can provide you the most suitable suggestions.
Multiple purchasing ways for your reference. Generally, T/T, L/C and Western Union are available. And our customers often choose these three ways for purchasing. Besides, if you have any requirements or doubts on the purchasing ways, you can contact us.
Complete after-sale service for your installation, operating and maintenance. After your purchasing, we will send the installation video and instruction manual to you with the products. Besides, if you need, it is also available to send an engineer to you for helping your installation.
How to select an ideal pan granulator for your industry?
There are many specifications of the manure fertilizer disc granulators in Shunxin. Do you know which one is suitable for your industry? How to choose the most suitable one for your fertilizer production plant? Now there are some tips for you.
Knowing the production capacity, what you need. Shunxin pan pelletizers can meet your production requirements from 0.02t to 6t per hour. According to your ideal production capacity, our company will recommend you the suitable machines for you.
Making sure the materials of plate granulator you need. The raw material is key for selecting the granulating machine. For example, if your material is mordant, you had better choose the disc pelletizers, which uses anticorrosive materials when manufacturing.
Besides, if you have any requirements, Shunxin fertilizer pan granulator manufacturer can provide you the best suggestions. In Shunxin, you will find the most suitable pan pelletizer for your fertilizer production.
Do not know how to choose suitable pan granulators for your own fertilizer production requirements?
Technical specifications of disc granulator
Shunxin disc granulator is high in performance. You can apply it to many fields. And for your different manure granule fertilizer production plants, there are many choices for you. They mainly have differences in production capacityies, heights, diameters of pelleting pans, sizes, rotating speeds and the motor powder. Here you can know some main technical data in detail.
The production capacity. Shunxin disc pan granulator can meet your different needs on the manure granules processing. Our smallest output of the disk manure pelletizer is about 0.02t/h. It is more suitable for testing and lab applications or practices. While, we also have manure pan pelletizer with large output. It can process manure granules in the capacity of 6t/h.
The height and diameter of disc pan. Because of the different sizes of Shunxin disk granulator, the pan height is between 200mm-450mm. And the diameter is between 500mm-3600mm. The larger the diameter, the higher the height. While, you do not need to worry about the powders dropping out. The edge of pan will protect the powders well.
The motor powder for processing. The same as the production capacity and pan height. If you choose the higher production capacity, the motor powder consumption of the pan processing system will be also larger.
The rotating speed for pelletizing. Different from the other 3 data above, the larger size the disc granulator, the slower the rotating speed. Because the large granulator will have large resistance when the pan is rotating. Our smallest machine has the highest rotating speed. It can reach 32r/min. While, the smallest speed of SXYZ-3600 is about 13r/min.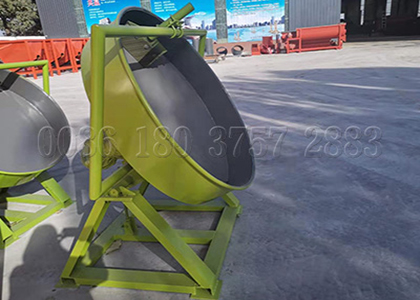 What's the price of pan manure granulator?
Shunxin disc granulator is the most popular manure fertilizer pellet mill among all the granulation machines. And you can also get the best price in Shunxin. Because we have our own factory for manufacturing machines. As for the detailed price of manure pan pelletizer, there are different choices for you.
According to the production capacity, the one with larger output is more expensive than the smaller one. And Shunxin has professional engineers for providing you the best solutions. Meanwhile, we can also customize for your own granulating requirements.
The materials for manufacturing disc pelletizer also affect the cost. All of our machines use national standard steel when manufacturing. While, if you have requirements on the materials, it is available for you to get the tailed machine in Shunxin. Thereupon, the price will be higher than the common one.
Besides, it is also available to install some additional devices for better processing. For example, there are automatic cleaning device on the rotating pan. It can clean your powdery materials. And then the materials will not be sticky on the wall. Especially, if you want to control the moisture content of manure powder better, it is applicable to installing a spraying device on the pan. Thus, the price depends on your needs.