Shunxin poultry litter pulverizer can process materials, whose moisture content is between 25%-55%. This machine deals with your trouble on crushing high moisture content materials. It is suitable for you to crush fermented organic poultry excrement. There are many types of pulverizing equipment for you to choose. These machines can help you make ideal powders. Meanwhile, it is applicable for you to use it in different processes for different requirements. Especially, Shunxin uses special designs on poultry waste crusher so that you can get fine powders and operate machine conveniently.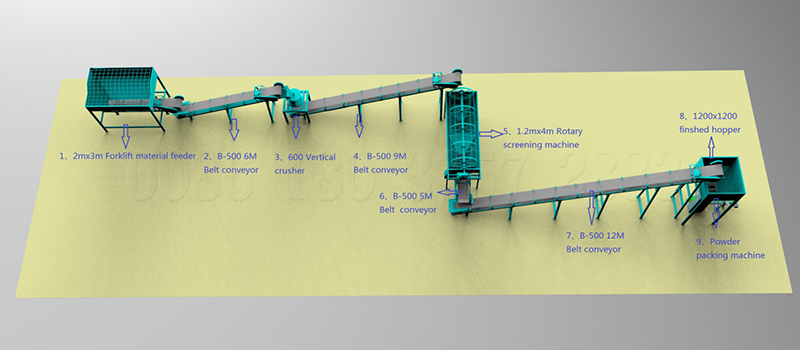 Shunxin poultry litter pulverizer for your fertilizer powder making
In an organic fertilizer production line, you can use a pulverizer for crushing your poultry manure materials into powders. It is suitable for you to pack these poultry manure fertilizer powders for selling. Meanwhile, you can also use it for making organic poultry litter fertilizer. Shunxin provides you 2 types of poultry manure crusher for your fertilizer powder making.
Hot sale semi-wet poultry litter pulverizing machine
This machine can deal with organic poultry waste materials, whose moisture content can be 20%-40%. It is suitable for your small scale fertilizer plant. What's more, there are two-stage crushing devices inside the machine. These two devices can pulverize your poultry poo materials into fine powders.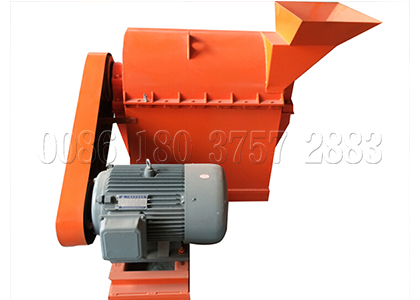 Semi-wet poultry litter pulverizing machine for sale
Model: SXSF-60
Capacity: 1.5-3t/h
Power: 30kw
Comminution Size: 50mesh
Overall Size: 1300*1450*1300mm
New vertical poultry waste crusher for sale
Comparing with semi-wet poultry poo crusher, this machine has lager production capacity. If you have a large scale poultry farm, it will be more suitable for you. Meanwhile, the materials it needs can be high water content. It is applicable for you to feed poultry dung, whose water content is between 25% and 50%.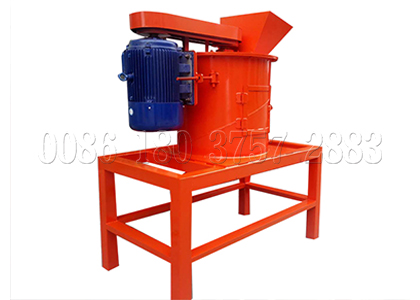 New vertical poultry waste crusher for sale
Model: SXFLF-600
Power: 22kw
Capacity: 3-5t/h
Size of Feed Port: 400*400mm
Overall Size: 1300*750*1900mm
How does a poultry litter pulverizer play a role in organic manure fertilizer powder manufacturing process?
In an organic fertilizer production line, the poultry waste crushing equipment is often used after screening. While, similar to the screener, you can use it in different processes.
Crushing after you ferment organic poultry dung
For the pulverizing of agglomerations after your composting, Shunxin provides you different types of poultry manure pulverizing machines. These machines can crush the composted organic poultry litter into fine powders so that you can pack them or granulate well.
Pulverizing after the screening of crushed organic poultry manure fertilizer
The screening of organic poultry manure fertilizer powder can select unqualified fertilizer powders out. And then you need a pulverizing equipment for re-crush the unqualified products for higher quality. Shunxin chain crusher will be suitable for you. This poultry excrement pulverizers have two different types: horizontal chain crushing machine and vertical chain pulverizer. The vertical type has only one rotor. While, the horizontal has double rotor. Therefore, the horizontal pulverizing machine has large production capacity. It is suitable for your large scale poultry litter pulverizing requirements.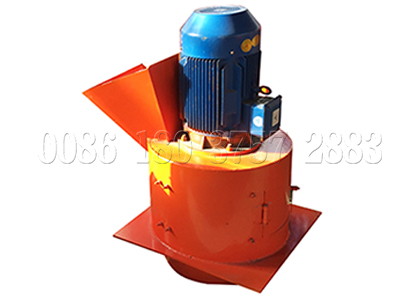 Poultry litter pulverizer for sale
Model: SXLTF-500
Power: 11kw
Capacity: 1-3t/h
Size of Material: < 100mm
Diacharge size: ≤3mm
How does components of poultry litter pulverizer work for making high-quality fertilizer powder?
It mainly includes three parts: frame, rotors and the transmission. These 3 parts work together for completing the whole poultry litter pulverizing process.
Shunxin uses high-quality carbon steel plate on frame for running stably. It makes sure that you can pulverize poultry poo into fine powders smoothly.
The rotors are the most important part in the whole pulverizing. There are two rotors inside poultry dung pulverizers. When you put materials into feeding port. The upper rotor will crush poultry poo for the first crushing. And then there will be a regrinding by the lower rotor.
We use flexible belts on the poultry excrement pulverizing facility. It connects the motor, belts, pulleys and principal axis together. So that the rotors can crush the litter materials.
Smart fabrications of poultry litter pulverizer
We employ anti-inner wall scaling technology on liner.
The chain cutter bits use special steel for working better.
There is a door on the vertical poultry litter crusher for you to assemble and unassemble the cutter bits conveniently.
We use two-stage crushing technology on both semi-wet poultry dung pulverizers and vertical chain crusher. Thus, you can pulverize these poultry poo materials into fine powders.
There are screens inside the semi-wet organic poultry waste crushing equipment. Thus, it avoids the blockage of materials.
It is applicable for you to move the hammer of poultry waste pulverizing machine, if the hammer is broken.
We adopt centralized lubricating system for making you add lubricating oil conveniently. With this design, it is applicable for you to add oil without stopping the machine.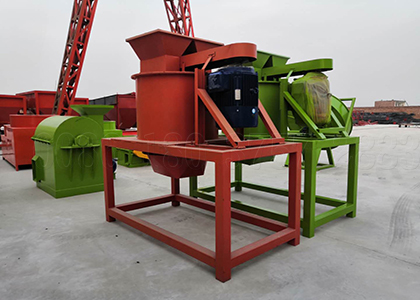 Vertical type manure fertilizer pulverizer tests running
How to choose a suitable poultry litter pulverizer for your own poultry litter powder manufacturing?
There are various pulverizers in Shunxin for you to choose. Then what should you do if you want to choose a suitable machine for your poultry dung powder making requirements?
What do you want to do with pulverized poultry litter?
Different applications have different requirements for powder. If you want to make them into organic fertilizers granular, you had better choose a poultry litter pulverizer, which can make your materials into finest powder. Because the finer the powder, the better the pelleted granules. For your information, Shunxin provides various poultry manure pellet machines for your granulating requirements.
What size of poultry dung powder do you want?
Shunxin has different types of crushing machines for your poultry manure powder manufacturing. They vary in not only production capacity, but also the size of powders. It is alternative for you to choose a poultry poo powders making machine according to your need. If you do not know which one is suitable for you, we are glad to provide you suggestions. Meanwhile, if you have some special requirements on the machine, it is available to customize for you.
Do not know which machine is suitable for your fertilizer production? Contact us and we will provide you professional suggestions.
What crusher can you use if you want to add some ingredients for better fermentation?
Before your fermentation, you can add some accessories for improving your poultry manure fermentation effect. Straw is good material, which is easy to get and recycle. And you can use Shunxin crushing machine for making straws into powders so that you can add them into poultry litter materials conveniently.
Shunxin has straw dedicated pulverizers for you to choose. This machine can guarantee standard rate of the finished powders. Meanwhile, there is a stainless steel screen inside. Moreover, the size of screen can be customized. Especially, if you use it for crushing straws, there will be no dust pollution. Besides, it is suitable for you to add wood chips, rice husks, tree branches and leaves, peanut shells. These materials are good ingredients for better poultry litter fermentation. You can use Shunxin straw pulverizing equipment for crushing them.