Processing organic manure material into available fertilizers for commercial use, Shunxin has professional suggestions for you. According to your different requirements, we can customize for you with specific plans. Generally, our machines can process your various animal manure into fertilizers with different equipment configurations. Here you can see some fertilizer production solutions for animal manure recycling. Whether you want to make powdery fertilizer or manure fertilizer granules, we can meet your needs.
Manure fertilizer composting equipment for simple animal waste fertilizer making
In your animal farm, the animal excrement is a great problem. It is necessary for you to get rid of them. And here we provide animal manure compost making machines for you to turn fresh manure available.
Composting is key for tuning animal waste into available organic fertilizers. There are various composting machines for you to get composted cow dung powdery fertilizers. Meanwhile, it also shortens the composting time than natural composting. Whether you want to use the trench composting method or windrow composting, there are different manure composting equipment for you. You can spread the manure compost fertilizer in your crops directly. Besides, if you need, it is also available to customize for you. You can spray liquid easily for adjusting the moisture content of composts.
While, if the animal manure is high moisture, it is necessary for you to use a solid liquid separator. This machine can help you lower the moisture content of animal waste for better composting.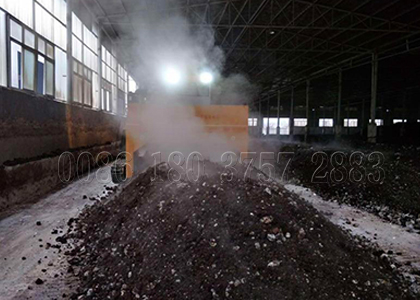 Powdery fertilizer making line for 1 ton per hour cow farm recycling
For you small scale cow farm, there are simple powdery cow dung fertilizer making equipment for your reference. With these simple machines, you can turn the fresh cattle manure into available organic fertilizers. Moreover, it costs less than granular fertilizer making line.
For your cow dung compost making, we recommend the moving type cow dung windrow turner. It is the most suitable turner with small production capacity. And it is convenient for you to move. This machine can help you finish composting in half a month. Most of our customer have chosen it for their small scale organic compost making. Meanwhile, it is the most economic cow dung compost turning equipment.
After composting, it is applicable for you to use our semi-wet cow dung compost crushing machine for fine powder making. The semi-wet type puliverizing machine employs advanced powder making technology. It can make the powdery fertilizer finer.
And then, our cow dung powder packing machine can help you bag these powdery products efficiently. Meanwhile, there are many specifications for you to choose. For example, the cow dung powder bagging machine with one bucket is more efficient than the no-bucket type. Thereupon, the cost will be more expensive. You can choose freely according to your production capacity and budget.
These are complete equipment recommendations for 1 ton per hour small scale cow farm recycling. If you do not want to cost too much on this, it is applicable for you to equip with a cow dung compost turner machine. While, if you want to make it commercial, the cow dung fertilizer crushing machine and manure powder packing scale will be more helpful.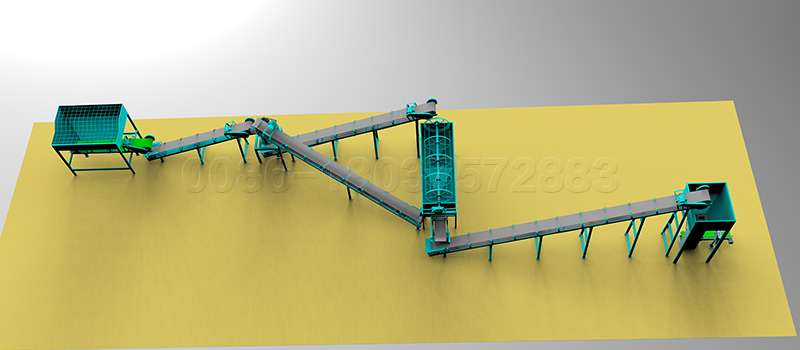 Commercial powdery pulverizing line for fine composted manure powder production plant
Making commercial powdery manure fertilizers, crushing machine is necessary. Generally, the composting can make your animal manure available. While, for your commercial organic manure compost powder production, you had better pulverize the composted manure into fine powder. There are many types of manure grinder for your reference. For example, you can use our semi-wet type manure grinder for pulverizing. It is widely used in manure powder making line. Besides, the new vertical type manure powder crusher is also popular. It has lager production capacity than the semi-wet one.
For commercial organic manure powder processing, there are packing machines for you. The manure powder packing scales use advanced designs for avoiding the blocking. Meanwhile, it is alternative for you to choose the packing capacity.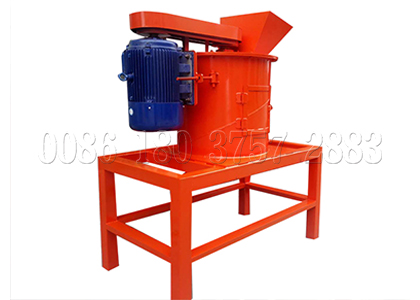 Organic manure fertilizer granular project proposal for commercial use
Besides the powder manure fertilizer making line, there are also granular fertilizer processing machines. It is a litter different from the powder making line. After the composting and crushing, you do not need to pack them directly. Making them into granules can make your fertilizer in a better status. There are complete granular fertilizer processing machines for you to granulate the powdery manure. And then you can use our drying, cooling, coating machines for better fertilizer making according to your preference. Moreover, if you want to add some other nutrients with the manure fertilizer, the manure powder mixing machine will blend them evenly before granulating. Or, you can also coat the pelleted fertilizers by coating machine.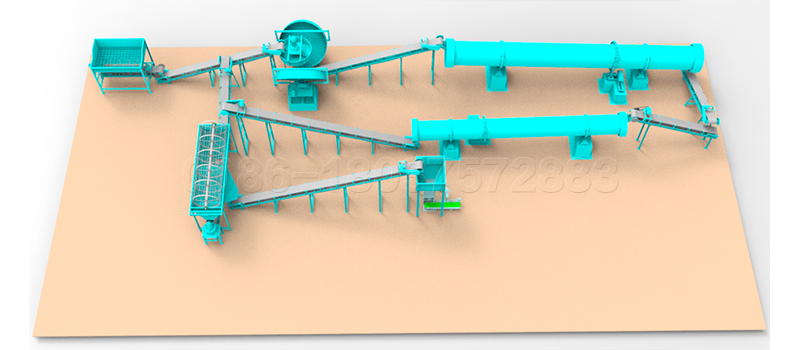 Granulation line for helping you turn powdery fertilizer into commercial granules
Turning powdery manure fertilizer into granules, our manure fertilizer powder granulation line is applicable. What you need is a manure fertilizer granulator. This machine can pelletize your powdery manure compost conveniently. There are different manure pellet mills for your reference. For your small scale manure granules making, the disc granulator is a suitable choice. It can pelletize your manure by wet granulation technology. And there are many specifications for you to choose. Moreover, it costs less than the drum type granulation machine and new organic manure fertilizer granulator.
Granulating organic manure, it mainly employs wet granulation technology. Thus, the granulated fertilizer will have high moisture content. A drying machine will be suitable for you to lower the moisture content. Or you can also dry them by the natural air.
Besides these manure processing plans, we can also design for you. If you need a specific manure production line for your own manure recycling, our experienced engineer will provide you professional suggestions. All the equipment configurations depend on you. Meanwhile, it can be promised that all of our machines are high quality at factory price. Moreover, it is also available for you to visit our factory.