For your large scale composting, there are two widely used organic manure compost making methods. It is applicable for you to choose according to your plant. Whether you choose the windrow composting or trench manure compost making, we have efficient organic animal manure composting machines for you. With these machines, you can get high quality manure compost fertilizers in a short time. Besides, according to your different production requirements, we also have different compost processing machines for you.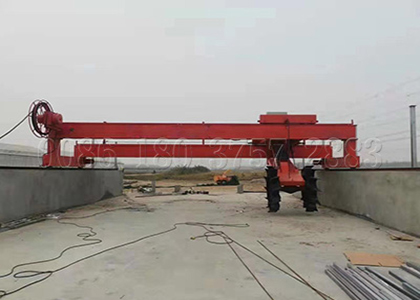 What are the methods of composting animal manure at a large scale?
Composting animal manure, there are many composting methods. It is alternative for you to choose the windrow composting or trench composting. These two composting methods are applicable for your large scale composting.
Windrow composting method for organic animal manure mass fertilizer production
Making windrow compost, you should make the organic manure materials into windrows. And then turning them regularly for avoiding the high temperature kills probiotics. This method needs large area for placing your windrow materials. And you had better leave some distance between two windrows for moving the turner machines conveniently.
Trench type manure compost making method
Compared with the windrow composting, this trench manure compost making method is more suitable for small size manure compost making plant. If you want to produce animal manure compost with large output, you can build some deep grooves. The capacity of groove is larger than the windrow. And then it is suitable for you to turn these manure materials for improving microbial activities. These activities can help you make better manure fertilizer compost.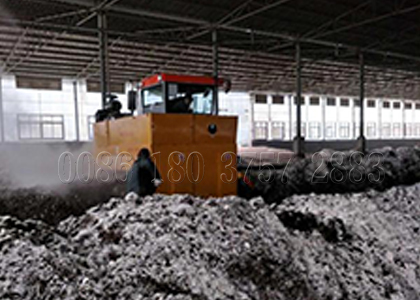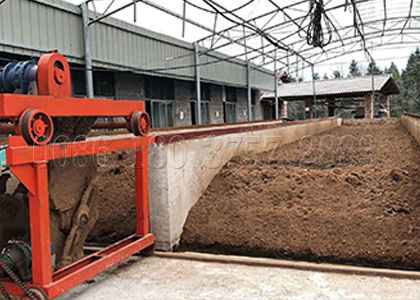 Alternative processing machines for producing manure compost in large quantities
Generally, if you compost animal manure naturally, it will take about two months or more for finishing the whole composting process. A manure fertilizer compost turner machine can highly improve your composting efficiency for large composting. Meanwhile, it also saves your labor force. Here are some recommendations of turning machines for your reference.
Crawler type windrow compost turner machine with 20t/ h large processing capacity
This manure turner machine is a popular windrow turner among our customers. It is widely used for organic fertilizer production lines with different animal manure. There are different production capacities for you to choose. Meanwhile, we use delicate designs for making the windrow composting process more convenient.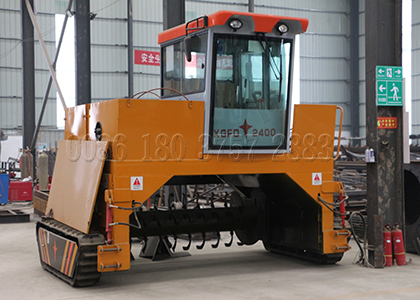 High throughput and quality compost maker -Groove manure turner machine
Using trench composting equipment for organic manure fertilizer making, the groove type manure turning machine is an economic choice. Generally, utilizing this machine for composting, you had better equip with a transfer machinery. With this equipment, you can control the movement of groove turners more conveniently.
Wheel type manure compost making machine with high production capacity
For your large scale composting, the wheel type turning machine is the most suitable one. It has largest output among all the turning equipment. While, it takes more space, too. Thereupon, it also cost more than other manure compost making machines.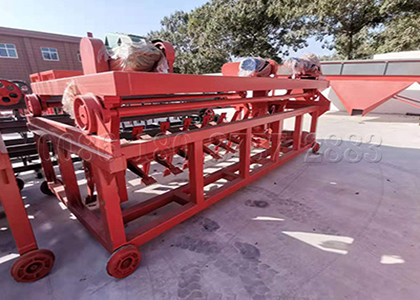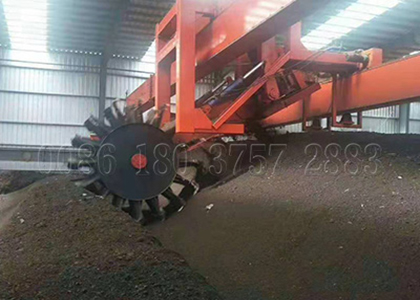 Besides, if you have other requirements on our composting machine for large scale composting making plant. We are glad to provide you professional suggestions. And we will try our best to make you satisfied. And if you need, it is available to customize for you. Moreover, according to your plant scale and budget, we can also design the equipment for you.
How to make compost in large scale using cow dung?
Cow dung is rich in organic matters. And because of the large amount of organic cattle manure, it is helpful for you to do a large scale composting in your cow farm. Except for the organic matters, there are still some harmful bacteria. Thus, it is necessary for you to compost them. Through the composting, the harmful elements will be eliminated. Then how to compost the cow dung in large scale?
For large scale cow dung compost making, we recommend the trench composting equipment for you. It takes you less space than the windrow composting. What you need to do is that building some grooves for putting cow dung. The depth and width depend on the composting turners. And then you should turn these organic cow dung regularly for supplying oxygen. When the temperature of compost does not raise, it means that the composting is finished.
Besides, it is applicable for you to add some other materials for better composting effects. There is a spraying device on our groove type composting turner machines. It is convenient for you to adjusting the moisture content, too.
Test running of the large scale trench type manure compost turner machine
What is the equipment for processing larger compost fertilizers for commercial use?
Manufacturing organic manure compost fertilizers for commercial use, it is suitable for you to process them into granular fertilizers. Generally, the fertilizer granules are more suitable for transporting and storing. And the fertilizer effects will be better than the compost, too. Here we will show you some processing equipment for processing your composted manure commercially.
Organic manure compost pulverizing machine
After the composting, most of manure compost are powdery. While, there will be some blocks. Thus, with a pulverizing equipment, you can turn them into high quality organic fertilizers powder. It is applicable for you to pack them directly. Or you can also process these powdery manures into granular fertilizers.
Want to know more about the organic manure compost powdery fertilizer making line?
Manure compost powder granulating equipment
In an organic manure compost granule making plant, it is necessary for you to equip with an organic manure compost fertilizer granulator. This machine can help you turn powdery organic manure fertilizer into granules efficiently. Meanwhile, there are many types of granulation machines with different production capacities for your reference.
Fertilizer granules drying and cooling equipment
In your large scale compost fertilizer making business, equipped with a drying machine, you can get dried organic manure granules more efficiently than drying by natural air. Meanwhile, you can also take advantages of a cooling machine for lowering the temperature of dried organic fertilizer pellets.
Fertilizer products packing scales
Packing is the final step in large scale commercial organic manure fertilizer making line. This machine uses high technology for weighing and packing the finished organic manure products efficiently. With this machine, your whole organic fertilizer processes will be highly improved.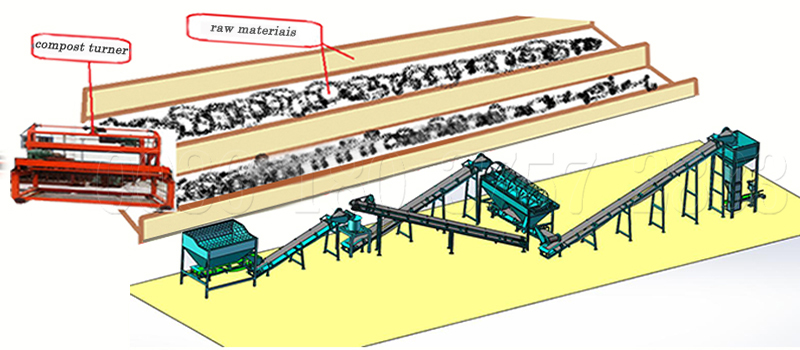 How to start large composting business?
Starting a large-scale composting business, it is key for you to build a plant with large area. And then you should know the fertilizer equipment you need according to your production requirements and budget.
Making sure the plant size. Generally, manufacturing manure fertilizer compost in large scale, you should have enough space for placing the processing equipment. Thus, it is applicable for you to know how much area does your large compost processing takes.
The compost processing machines. There are many types of compost manure fertilizer processing machines for you to choose. You can choose to compost the animal manure for your own farm use. Or it is also applicable for you to make powdery compost fertilizers or granular manure fertilizers. The well processes manure fertilizer powder and granules are applicable for making profits.
Our company has many experienced engineers. We will provide you the suitable equipment configurations for your large composting. For your own farm compost fertilizer making, we have different manure fertilizer turning equipment for different production requirements. And we also have various equipment configurations for your commercial compost fertilizer making. Moreover, it is also applicable to design for you. According to your plant scale, budget, we can help you make the most suitable plan at affordable price.