Want to deal with your poultry waste in an easy way? Are you looking for a way to make poultry waste available? Do you want to make poultry litter into money? Shunxin poultry manure dryer can meet your needs. A poultry waste dryer can dry your high moisture poultry poo well. What's more, you can use the dry poultry litter for selling, making animal feed and so on. The dry poultry waste is convenient for you to store and transport. Besides, it also plays an important role in commercial organic fertilizer making line. It is applicable for you to equip with some other fertilizer machines for drying organic poultry manure fertilizer granules. And then you can get well processed organic fertilizer for making money.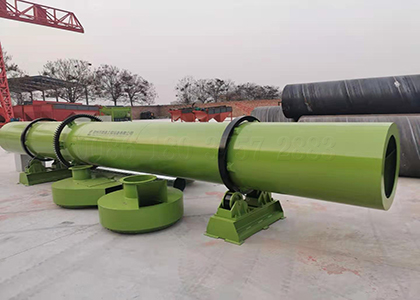 Poultry litter drying system for sale
Model: SXHG-2222
Power: 37kw
Capacity: 8-16t/h
Rotating Speed: 5.5(r/min)
Installation Angle: 3°-5°
Why use a poultry manure dryer?
Equipping with a poultry manure drying machine is necessary for your poultry farm. With this machine, you can deal with your poultry waste well. Shunxin poultry waste drying machine has wide applicability. It is suitable for you to use it dry your fresh poultry poo.
Drying fresh poultry poo for storing well
Fresh poultry waste has high moisture content. Moreover, it is not suitable for storing for a long time. Using a dryer, you can get poultry litter, whose moisture content is about 13%. Thus, you can store dry poultry litter well.
Drying poultry litter for making animal feed
It is a wise choice for you to dry the poultry litter for making animal feed. The dry poultry waste is good material for processing fish feed, pig feed and so on.
Drying organic poultry manure for organic fertilizer manufacturing
In an organic fertilizer production line, you can use a poultry manure drying equipment for making pelleted poultry manure. Doing this, the poultry manure fertilizer granular will be in a good status for you to transporting and storing.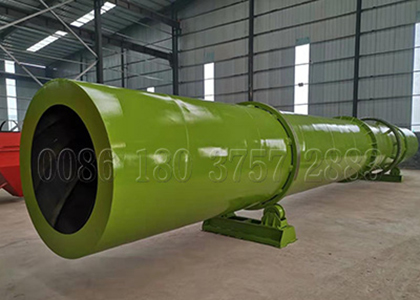 Poultry manure dryer for sale
Model: SXHG-1818
Power: 22kw
Capacity: 7-12t/h
Rotating Speed: 5.8(r/min)
Installation Angle: 3°-5°
What should you do before you use a poultry manure dryer in organic poultry manure production line?
In an organic poultry manure fertilizer pellets making machine, it is applicable for you to use a poultry manure dryer for drying. Generally, after the granulating, it is time for you to dry the pelleted poultry manure. Then, what are these processes?
Dewater fresh poultry litter for fermentation
The fresh poultry manure has too much water content. While, the suitable water content of manure materials for fermenting is about 50%. Thus, you need a dewatering machine for lowering the water content. Shunxin screw press poultry manure separator and slanting sieving solid-liquid separator are suitable for your dewatering requirements. They can dewater your organic poultry waste into low moisture materials, which is about 45%.
Ferment poultry poo
Fermentation is an important process in an organic fertilizer production line. The fresh poultry waste has too much harmful bacteria. Through fermentation, the poultry waste will become available organic manure fertilizer. For your quick fermentation, Shunxin recommends you compost turner machine and poultry poo fermenter. With these machines, you composting time will be shorter. Especially, if you use our fermentation tanks for your poultry litter fermentation, it will take you only a week for finishing fermentation.
Shunxin has various composting machine for your poultry waste fertilizer making, want to know more?
Fermented organic poultry manure crushing and mixing
After the fermentation, it is suitable for you to crush poultry manure into powders. We have poultry litter powder making machine for your reference. This machine can help you make them into fine powders. And then a mixer will mix your poultry manure powder evenly.
Well mixed organic poultry manure powders granulating
Making poultry litter into organic fertilizer pellets, a granulating machine is necessary. Shunxin provides you 2 types of poultry manure granulators. Whether you use the poultry manure pellet making machine or pan granulation equipment, the granulating efficiency will be good.
Pelleted organic poultry manure fertilizer drying
For lowering the pelleted poultry manure, a drying machine is necessary. The drying machine can help you lower the moisture content of poultry manure fertilizer granular. Meanwhile, if you equip with a cooling machine, the pellets will be in a suitable temperature. Doing this, your fertilizer granules will be more convenient for storing and transporting.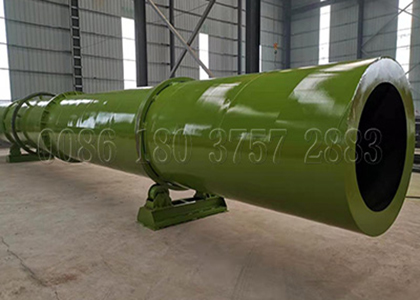 Drying machine for pelleted poultry manure for sale
Model: SXHG-0808
Power: 5.5kw
Capacity: 1-2t/h
Rotating Speed: 6(r/min)
Installation Angle: 3°-5°
Tips for you to improve poultry manure dryer efficiency
If you want to improve the drying production capacity, there are some factors you should care. The specification, technique data, structure, material you should dry, primary moisture content, final moisture, etc. are important factors, which will affect production efficiency. Here are some tips for you to control them for improving the efficiency.
The bigger the diameter and length, the larger the production capacity
The quicker the rotating speed, the higher the production efficiency
It is applicable for you to adjust the rotating speed for controlling the drying time. If you make machine rotate quickly, the manure materials will rotate repeatedly. Thus, the drying efficiency will be higher, too. However, it will be wearing if the rotating speed is too high. What's more, there will be more dust generated.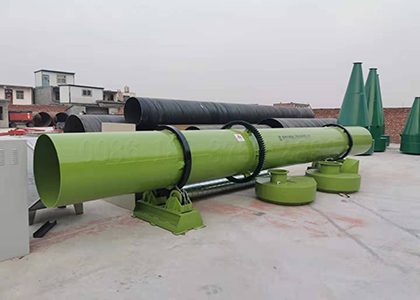 Poultry poo drying equipment for sale
Model: SXHG-1010
Power: 7.5kw
Capacity: 2-4t/h
Rotating Speed: 6(r/min)
Installation Angle: 3°-5°
How to take a test run of poultry manure dryer?
Before the drying, taking a test run will make you know the poultry poo dryer well. Meanwhile, it is applicable for you to control the machine for drying poultry manure better.
Check whether the bolts are tight or not. Meanwhile, you had better make sure that there is enough lubricating oil on lubricating points.
It is essential for you to make sure that there is no holdback, which affects dryer running.
You had better run electromotor for 2 hours. Then it is suitable for you to start reduction box for 4 hours.
Run poultry litter drying machine for 8 hours with no load, 48 hours with loads.
After 48 hours running, there are some examination you should do.
Check whether there is noise or not when it is running.
It is abnormal if the temperature increases by 30°C.
You had better make sure there is no oil leakage. Besides, it is suitable if oil temperature is at most 60°C.
How useful was this post?
Click on a star to rate it!
Average rating / 5. Vote count:
No votes so far! Be the first to rate this post.