Manure composting equipment is a set of machines for you to make composts. If you use them for composting, you can get high quality manure compost. Meanwhile, the whole composting process takes you less time than natural composting. Besides, you can control manure compost turning machine by a remote-control unit or driving in cab. With a manure compost making machine, you can control the compost condition well. And it is alternative for you to composts with our static fermenter or some other compost turner machines. Especially, there is a manure compost bagging machine for you to pack your products well.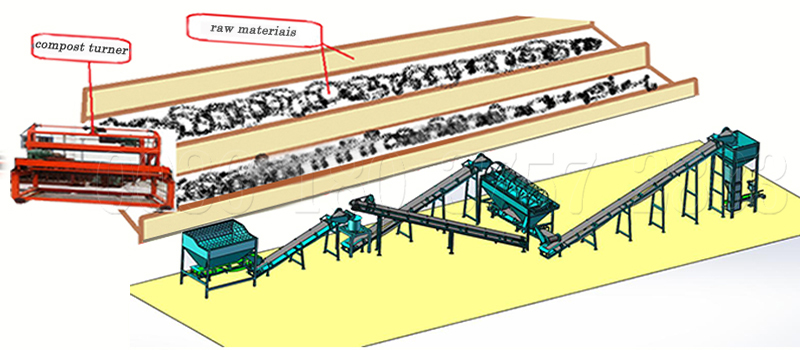 What is the process if you use manure composting equipment for manure composts making?
Making manure compost, our company has manure compost machine for you. If you equip with our compost machine, you compost effects will be better. What's more, your composting period will be highly shortened. Then what is the process of making compost with our machine?
Dewater
Generally, dewatering fresh manure is a necessary process before making composts. You can dewater your organic manure by using our manure dewatering machine. This machine will separate liquid from your solid manure materials. Through this process, you can get dried organic manure materials, which is suitable for making composts.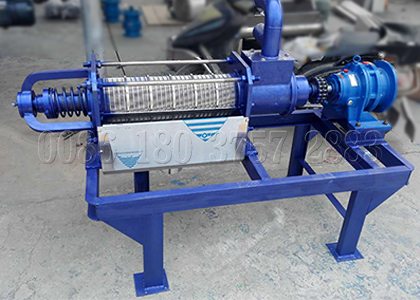 Manure dewatering machine for compost making for sale
Model: SX-180
Main Power: 4kw
Pump Power: 2.2kw
Vibrating power: /
Voltage: 380v
Dimension:2020*650*1150mm
Make grooves or windrows
There are 3 methods for you to compost. If you choose windrow composting, it is applicable for you to make manure windrows. Or you can also build grooves for groove composting. Besides, if you choose manure fermentation tanks, it will be easier for you to ferment. What you need to do is put the dewatered organic manure materials into tanks.
Turn materials regularly
Whether the windrow composting or groove composting, it is important for you to turn the materials regularly. The compost turner machine can turn your materials evenly with high efficiency.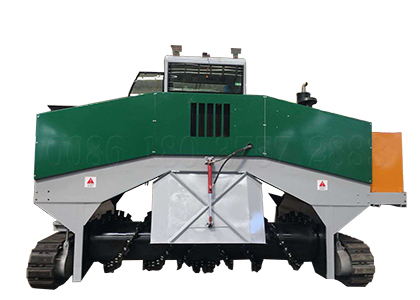 Manure compost making equipment for sale
Model: SXLDF-2300
Turning Width: 2.3m
Turning Height: 0.6-1m
Row Spacing: 0.8-1m
Power: 75kw
How to operate manure composting equipment for turning fresh manure available?
Our factory has various manure compost turner machines for you. Generally, they can be divided into 2 types. The windrow type manure composting machine and groove type turner for manure compost making. And it is different if you want to operate them.
Remote control for turning
There are remote control type manure compost turning facility. You can control their activities by a remote-control unit. It is suitable for your trench composting. We provide you many types of manure composting turner. It is applicable for you to operate them for turning with a remote-control unit.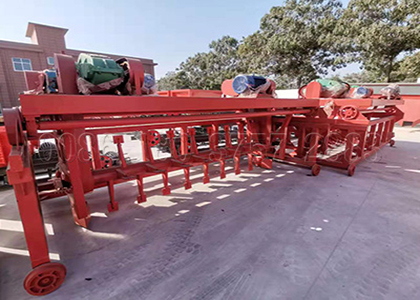 Groove type manure turner machine for sale
Model: SX-3000
Main Power: 18.5kw
Mobile Power: 1.5kw
Lift Power: 1.1kw
Application: Turning the compost on the groove
Drive in the cab for operating
Besides the remote-control turner, we also have manure compost turners, which is controlled by a driver. Our manure windrow composting machine only needs a driver for operate it. You can operate the machine in the cab.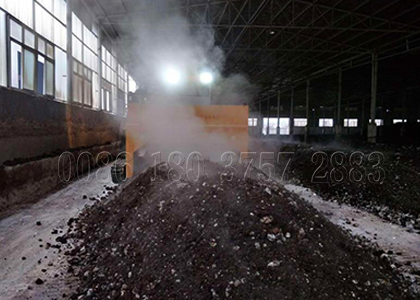 Manure compost turner for sale
Model: SXLDF-2300
Turning Width: 2.3m
Turning Height: 0.6-1m
Row Spacing: 0.8-1m
Power: 75kw
How important is it for using a turner machine for your manure compost powder making?
In an powdery manure fertilizer making line, turner machine is key among all the manure composting equipment. There are many factors, which will influence the manure composting effects, such as C/N ratio, water content, temperature and oxygen. Controlling these factors well makes better composting effects. Then how to control them? Turning manure materials is a helpful activity for controlling the temperature and oxygen.
If there are too much oxygen, it will be harmful for the organic matter of manure materials. While, if it is lack of oxygen, the fermentation will be slower. Turning materials regularly can supply enough oxygen for composting. Generally, it is suitable for you to keep the oxygen content between 8%-18%.
Temperature affects the microbial activities. It is suitable for composting, if the materials temperature achieves 50°C~65°C. At this degree, it can eliminate pathogenic bacteria, egg and some other harmful materials. If the temperature is too low, the composting time will be longer. While, if the temperature is higher than 70°C, the composting effects will be bad. Thus, you should turn manure regularly for controlling temperature well.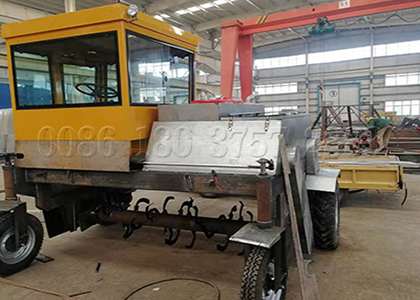 Turning machine for manure composting
Model: SXM-240
Compost Width: 2.6m
Compost Height: 0.8-1.2m
Moving Speed: 4.5-5.5m/min(adjustable)
Color: red(can be customized)
What manure composting equipment is suitable for your static fermentation requirements?
Besides the manure compost turning equipment, we also have manure fertilizer fermentation tanks for your static composting. This compost machine is different from traditional static fermentation method. It uses automatic control technology. You can control the manure temperature easily. And our factory employs ventilation and deodorization system on fermenters. Moreover, whether the weather is cold or not, it will not influence the fermentation. Because we use special materials for heat preservation. Thus, with this manure composting machine, you can get fermented manure without gas pollution. Meanwhile, the composting time will be short. It only needs a week for fermentation.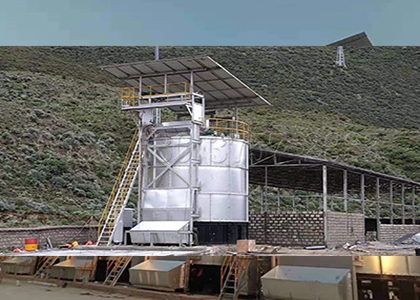 How to package compost manure in bags for sale?
It is a great idea if you want to pack your manure composts for selling.We can provide you compost bagging machine. This manure composting equipment is widely used for packing not only powders, but also granules. We apply PLC technology on it for you to use it conveniently. Thus, it can pack your products with high accuracy and production efficiency. Then how to use it?
When you start the machine, you had better put a bag on the bag holder. There is an instrument, which will give a sign if it is suitable for you to feed manure materials.
This machine has three level for controlling feeding speed: speediness, intermediate speed and low speed.
The weighing system will weigh manure materials automatically. When it finishes, the bag hold will let bag go.
Bagged compost manure will be transported to bag-sewing machine by conveyor. And then you can sew the bag.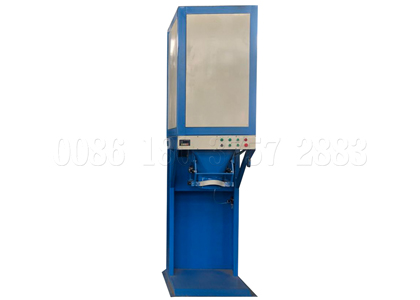 Manure compost bagging machine for sale
Model: SXH-A50
Function: packing and weighing materials
Weight: 600kg
Voltage: 380v
Packing Speed: 3-4bags/min
Degree of Automation: fully automatic
What factors you should consider for starting a compost manure making plant?
Starting a compost manure making plant, there are 3 factors you should consider.
The plant sites
The first factor is the scale of your plant. It depends on the production capacity of your manure compost fertilizer. And if the area is small, you should buy small size manure compost making machine. Meanwhile, because the material you compost is manure, there may be some pollution. You should consider whether it will pollute the water or influence other people's living conditions.
The manure materials
And you should also consider that where you can get materials for composting. From your own farm or buy materials from others?
The manure composting equipment
For buy composting equipment, you should choose an experienced fertilizer equipment manufacturer. Shunxin has been manufacturing equipment for over 20 years. Our products have been sold at home and abroad. There are many customers from India, France, Turkey, Thailand, Malaysia, Columbia, etc. What's more, we can provide you high quality equipment at best price.