Establishing an organic manure production plant is a good choice for you to get profits. It can not only recycle your organic manure waste, but also bring you economic efficiency. While, it is important for you to know the details about being an organic manure fertilizer manufacturer. For example, you should know the process for turning your animal waste to available fertilizers. Meanwhile, there are many machines for processing your manure fertilizers efficiently and conveniently. Here we provide you the details about the processes, machines, required area and the cost. Besides, you can also get professional solutions and equipment for your own manure fertilizer making requirements at the best price.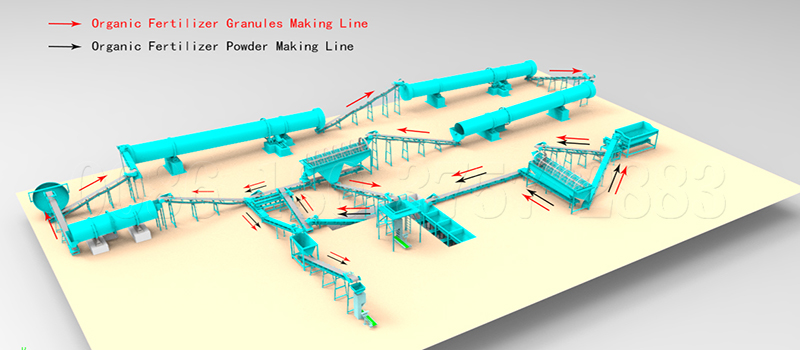 How to produce organic manure in large scale?
Manufacturing organic manure fertilizers in large scale, you should have a clear diagram for producing. If you are a beginner, here we provide you detailed fertilizer manufacturing process for your organic manure production plant.
Collecting the organic materials, which is suitable for making organic fertilizers. Before your processing, it is important for you to prepare suitable materials for organic fertilizer manufacturing. Animal waste is good material for organic fertilizer making. You can use cow dung, chicken manure, poultry litter, pig waste, horse manure, etc. Using these materials as main materials, you can also add some straws and so on as accessories for better processing.
Adjusting the moisture content of your organic materials. Generally, the fresh animal waste has high moisture content, which is higher than 60%. Thus, you had better lower the moisture content for fermenting well.
Fermenting. Fermentation is a key process for turning animal waste into available organic fertilizers. After the fermentation, the harmful bacteria in the animal manure will be killed so that you can use them on your crops well.
Crushing the fermented organic manure. Manufacturing organic manure in large scale, you can use the products for commercial purpose or your crops. It is a good idea to pulverize the fermented organic manure for making fine powder. The powdery fertilizer will bring you much profits by selling them. Besides, you can also process the powdery fertilizers into fertilizer granules.
Granulating for manure fertilizer pellet making. Generally speaking, the fertilizer granules has better effects on both appearance and fertility. You can use an organic manure granulation machine for making granular fertilizers.
Drying and cooling. After the granulation, the finished pellets will have high moisture content because of the wet granulation technology. You can dry them naturally by air. While, for your large scale organic manure production plant, drying and cooling machine can help you reduce your time.
Coating or packing. It is alternative for you to coat the fertilizer granules or not. Coating process can make your fertilizer granules have better appearance. Or, you can pack them directly.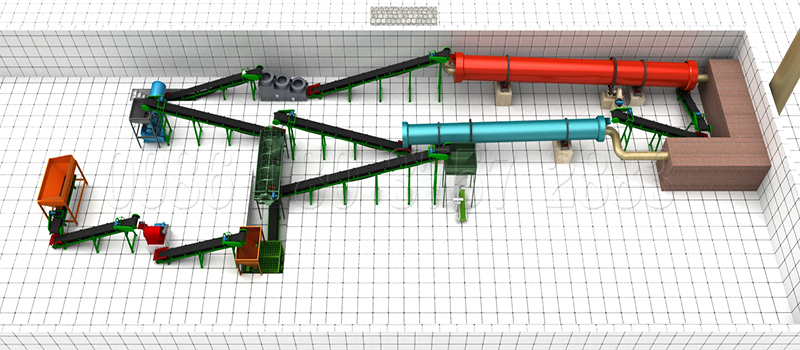 Equipment for your commercial organic manure production plant
Operating an organic manure production plant, it will be helpful for you to equip with some automatic fertilizer processing machine for your commercial use. With these machines, you can get high quality organic manure powdery fertilizers or granules in a short time. Then what machines do you need and what are their functions?
Main machines recommendations for organic manure manufacturer
Dewatering machine. There are screw press manure dewatering machine for you to lower the moisture content of manure materials. It can process your material, whose moisture content is above 50%. After the dewatering, the moisture content can be about 30%. What's more, it is adjustable for you to control the moisture content of dehydrated organic manure.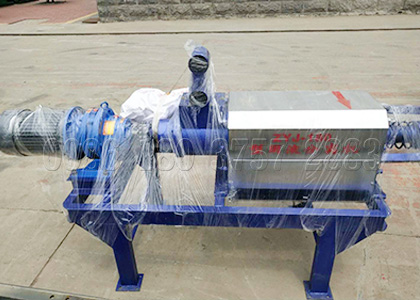 Dewatering machine for manure fertilizer processing for sale
Model: SX-180
Main Power(kw): 4
Pump Power(kw): 2.2
Vibrating power: /
Voltage(v): 380
Dimension(mm):2020×650×1150
Organic manure composting machine. For your composting, we have manure compost turner machine and manure tank for your reference. The turner machine utilizes the dynamic composting technology. While, the manure tank is a static fermentation machine. Both of them employs aerobic fermentation. Meanwhile, they can also highly reduce the fermentation period.
Fertilizer pulverizing machine. Pulverizing machine is key in powdery organic manure making line. Our manure grinders use special designs for making fine powder. What's more, there are many types of crushing machine for you to choose.
Organic manure fertilizer pellet making machine. Making fertilizer granules, we provide you 4 types of manure fertilizer granulators. You can use them for your chicken manure fertilizer pelletizing, cow dung granulation or poultry litter fertilizer pellet making, etc. For your different requirements, there are different specifications with different production capacity, sizes and prices for your reference. Moreover, all of them has high granulation rate for your manure fertilizer pellet making.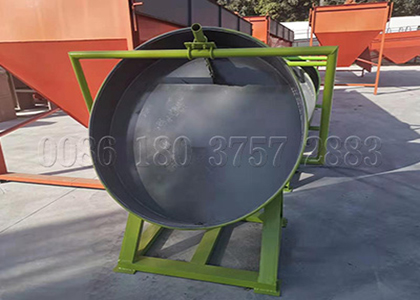 Organic manure granulation machine for sale
Model: SXJZ-1200(can be customized)
Installation Angle: 2°-2.5°
Moisture of Feeding Materials: 20%-40%
Size of Feeding Materials: 50 mesh
Dimensions(mm): 4900×2550×1800
Capacity(t/h): 4-6
Drying machine and cooler. These two machines are helpful for your commercial organic manure production plant. With the help of these two machines, you can lower the moisture content and temperature of your pelleted organic manure quickly with high efficiency.
Pelletized organic manure screening machine. The rotating screenner machine can help you select the qualified and unqualified organic manure pellets out. And then you can re-crush or re-granulate the unqualified fertilizer granules.
Automatic packing scales. Our packaging machine employs advanced PLC system for accurate weighing and efficient packing. Moreover, there are many manure bagging machines with different production capacities for you.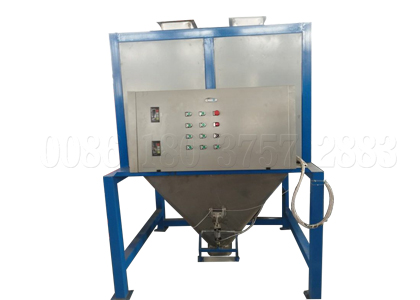 Double Bucket Packing Machine for sale
Model: SXH-C100
Function: packing and weighing materials
Weight: 800kg
Voltage: 380v
Packing Speed: 5-8bags/min
Degree of Automation: fully automatic
What is the cost of establishing an organic manure production plant?
Establishing an organic manure production plant, the cost is mainly on the materials, plant area, labor force and the processing machine.
Cost of materials. Generally, animal waste is good material for making organic fertilizers. You can buy animal manure from others. Or if you have an animal farm, whether it is a chicken farm, dairy farm or horse farm, it will be more economic for you to recycling these animal waste as materials for manufacturing organic fertilizers.
Cost on plant area. The plant area is a great expense for manure fertilizer processing. The larger the plant, the more the cost. Meanwhile, if your plant is in suburbs, the cost will be less than in downtown
Cost on labor force. It is well known that the labor force is a great expense in the production. The more automatic the machine, the less workers you need, the less the cost.
Cost of processing machine. This is the most important part for fertilizer production. High-quality machine makes you manufacturing smoothly and efficiently. Here Shunxin manufactures manure fertilizer machines for many years. All the machines are made by our own factory with advanced technology and designs. Meanwhile, it is applicable for you to get the factory price.