In your horse farm, the horse dung is a great problem. Then how to do horse manure management? How to use horse manure? There are many ways for you to choose. While, the best way is making them into high-quality organic horse manure fertilizers. It can not only help you get rid of the large mount of horse litter, but also bring you better efficiency. For example, you can take the finished horse manure as fertilizers for your crops. And it is also suitable for you to process fertilizer granules. Meanwhile, selling fertilizer pellets can also bring you profits. What you need is a set of horse manure disposal equipment. We have complete horse manure mulch processing machine for you to choose. And according to your different requirements, we will provide you different plans for you horse manure management. Especially, customizing is also available.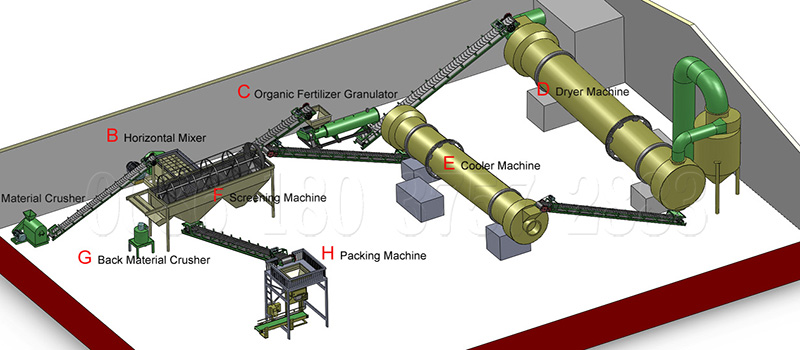 What can you do for recycling horse manure to fertilizers?
Recycling horse manure to fertilizer is a good choice for your hose manure management. It is necessary for you to compost the horse droppings firstly for making it to available organic fertilizers. Generally, composting horse manure needs about one or two months. While, it takes you too much time for your horse farm. Here, our equipment can help you solve it easily. Here you can know the details.
1. Collecting suitable horse dung materials, which has suitable moisture content for composting.
Generally, the fresh horse manure will have high moisture content. However, if the moisture content is too high, it will be not suitable for composting. Thus, you had better keep the horse droppings have suitable moisture content for your composting.
For dewatering your large amount of horse dung, there are screw press manure dewatering machine and slant sieving separator for your horse litter dehydrating. Both of these two machines can help you dehydrate well. Especially, our screw press solid-liquid separating equipment utilizes extrusion force for dewatering. What's more, the moisture content of dewatered horse waste is controllable.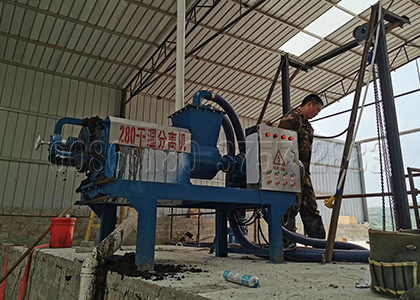 Soild-liquid Separator
Model: SX-230
Main Power: 5.5kw
Pump Power: 2.2kw
Vibrating power: /
Voltage: 380v
Dimension:2350*800*1150mm
2. Choosing a composting method and equipment
And then it is time for you to compost. There are 3 types of organic horse manure mulch composting methods for you to choose: Trench Composting, Windrow Composting and Static Fermentation. Different composting technology needs different equipment. Now we will explain these 3 types of composting technologies to you.
Trench Composting for Organic Horse Manure Making
Trench composting mainly finishes the whole composting process in grooves. Adopting this technology for composting horse manure, you should build one or more grooves according to your needs. This composting method is often used for large scale organic manure fermentation. Our factory manufactures groove type composting turner machine, chain plate type compost turner and wheel type turning equipment for your horse litter composting.
For your small or medium scale horse manure management requirements, we recommend you the groove type one because of the high composting efficiency and economic price. And the wheel type manure turner machine is more suitable for your large scale horse farm. Besides, compared with these two machines, the chain plate type composting machinery can meet you needs on thorough composting for higher horse waste fertilizer fertility.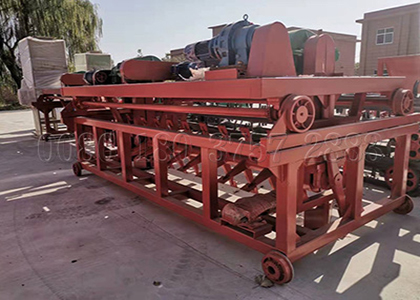 Trench type compost turner machine for horse manure composting
Model: SX-3000
Main Power: 18.5kw
Mobile Power: 1.5kw
Lift Power: 1.1kw
Application: Turning the compost on the groove
Windrow Type Horse Dung Composting
This composting method is popular. It only needs you to make the horse dung materials into windrows. And then you can use our windrow turner for turning these materials. There are crawler type commercial composting equipment and small scale turner for you to choose. The crawler type one is hot sale among our customers. And the moving type turning machine is more suitable for your small scale horse manure composting requirements because it is convenient for moving and it costs less than crawler type turner.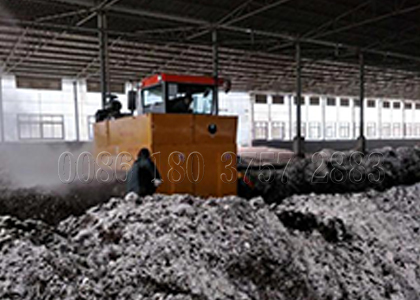 Crawler type horse litter windrow turner for sale
Model: SXLDF-2300
Turning Width: 2.3m
Turning Height: 0.6-1m
Row Spacing: 0.8-1m
Power: 75kw
Static Horse Waste Fermentation
Whether you employ the trench or windrow composting, you should turn the manure materials regularly. However, The static fermenter can help you finish the whole fermentation process automatically. And you do not need to worry about the odour, because there is deodorization system on our equipment. What's more, there are many specifications for your reference. And we can also customize for you.
If you use compost turner machine for composting, you can get well composted organic horse litter fertilizer in about 20 days. Especially, if you use the horse manure fermentation pot for fermentation, the fermentation will be finished in about 10 days. Moreover, it is suitable for you to use the composted horse manure as fertilizers for crops.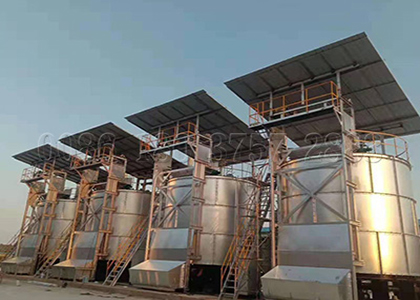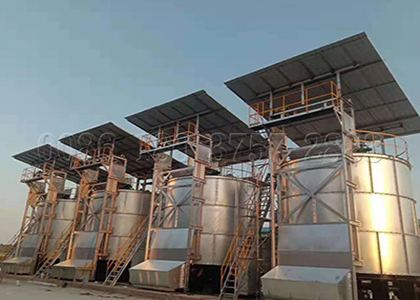 How to make your own pellet fertilizer from horse manure?
If you want to make commercial organic manure by recycling horse manure, we have organic horse litter fertilizer pellet making line for you. With these machines, the composted manure will be high-quality fertilizer granules and it is more convenient for you to transport and store. Meanwhile, it will be more efficient for your horse manure management. Then how to make it?
Horse manure powder making
Making organic fertilisers pellets, the materials should be powder. And after the composting, most of manure fertilizer will be powder. However, there will be some caking. Thus, with a pulverizer, you can get fine powders. We have various manure crushing machine for your requirements.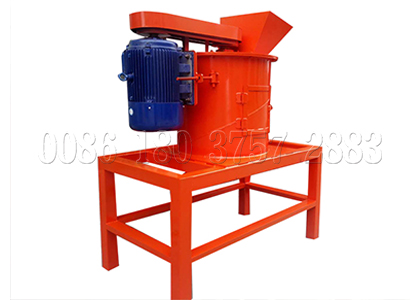 Fertilizer pulverizer for horse manure fertilizer powder making
Model: SXFLF-1000(can be customized)
Power(kw): 37
Inlet Size(mm): 650×450
Dimensions(mm): 1800×1200×2500
Capacity(t/h): 8-15
Powdery organic manure fertilizer granulating
Granulating is a key process in fertilizer pellet production line. There are pan type, patent horse manure pellet mill for pelletizing your horse manure fertilizers. Especially, the new designed horse waste fertilizer pelletizer has higher granulation rate, which can reach 95%. Moreover, the granulated fertilizer will be round because of the polishing device inside the machine. It reduces your cost on polishing machine.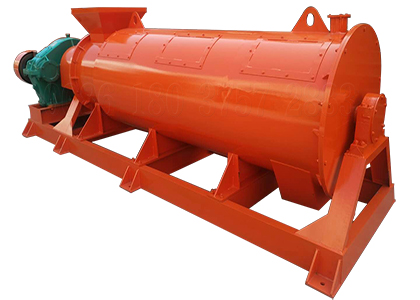 Horse manure powder granulator machine for sale
Model: SXJZ-600
Installation Angle: 2°-2.5°
Capacity: 1-1.5t/h
Total Power: 37kw
Dimension: 4100*1600*1150mm
Application: making organic pellet fertilizers
Pelleted horse waste fertilizer drying and cooling
Drying and cooling are processes for making the pelleted horse manure better. Because of the granulating, the finished organic manure will be in high moisture content. And then, a dryer can lower its moisture content, improving the stability of granules. The cooling machine is mainly used for lowering the temperature of dried pellets.
Finished manure pellets screening
After the drying and cooling, the whole granulating process is finished. And if you want high-quality organic horse manure granules, a screening machine can help you selecting the qualified and unqualified pellets out.
Packing
For your commercial granulating, a packing machine is helpful. Our company has various automatic manure bagging machine for you. And it has many different specifications for meeting your different requirements on production capacity. They all employs advanced PLC technology for weighing. Thus, with the help of this equipment, you can pack horse waste granules efficiently with high accuracy.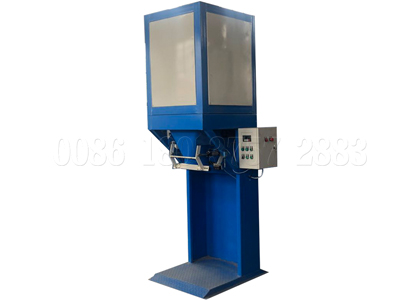 Single Bucket Packing Machine
Model: SXH-A50
Function: packing and weighing materials
Weight: 600kg
Voltage: 380v
Packing Speed: 3-4bags/min
Degree of Automation: fully automatic
How to use horse manure reasonably?
Horse dung is rich in organic matters. Meanwhile, it produced far more heat than some other animal manure. For your horse manure management, here are some advices for you to utilize the horse droppings better.
Mix with pig manure for fertilizing.
Generally, the pig manure fertilizer is more fertile than organic horse waste because of the property of horse litter. However, if you composting horse manure and pig waste together, the fertility will be better. Because the horse dung has large heat and it can promote the fermentation of pig litter. Finally, the composting effects will be better. Meanwhile, fertilizing these two types of fertilizers together, the yield of plants will be highly improved.
Add horse manure mulch as accessory when composting animal waste.
Composting needs high temperature for promoting the microorganism activity, and the horse manure can produce large heat. Thus, it is applicable for you to use it as accessory for improving the composting temperature. Meanwhile, it can also kill the harmful bacteria and parasitic ovum.
Take advantages of horse waste as hotbed for growing plants.
Besides, horse dung is also good material for making hotbed. For example, if you are going to growing vegetable, sweet potato, cotton, etc., the horse waste is suitable for you to heat as hotbed.