Earthworm is the decomposer in the nature. It is applicable for you to use earthworm for dealing with the organic waste and turning them into organic fertilizer. Utilizing earthworm for getting rid of organic waste is a great idea. Especially, the vermicomposting is good organic fertilizer. It is a good way for feeding earthworm with fermented organic waste. The earthworm will decompose the organic compost and produce high-quality animal protein and organic fertilizer. Industrial vermicomposting equipment can make it. If you want to start a vermicomposting production business, Shunxin commercial vermiculture equipment can provide you complete production plan.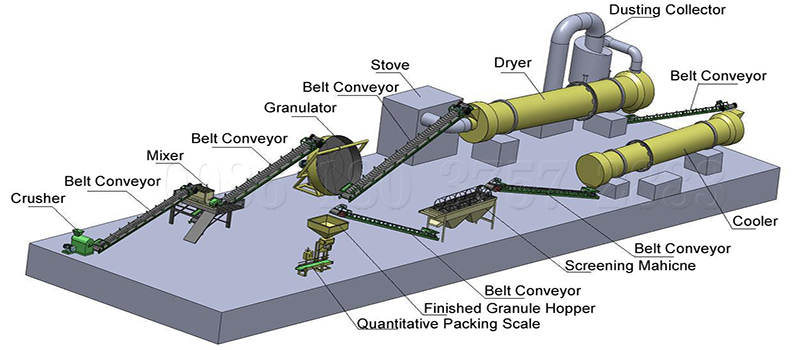 Industrial vermicomposting equipment required for vermicomposting preparation
If you have large amount of earthworm waste, what you need is composting equipment. It is alternative for you to use the turner machine or fermentation tank for vermicomposting. Whether you choose the turners or fermenters, you can get well composted organic earthworm fertilizer in a short time.
Using worm fertilizer turning machine, what you need to do is build grooves or windrows, and then turn them regularly for aging. 20 days later, the vermicomposting is finished. Comparing with the fermentation pot, the fermenters for making organic earthworm fertilizers will help you get well decomposed fertilizers in about 10 days. What's more, you do not have to turn the materials. Because there are automatic turning system inside the fermenters.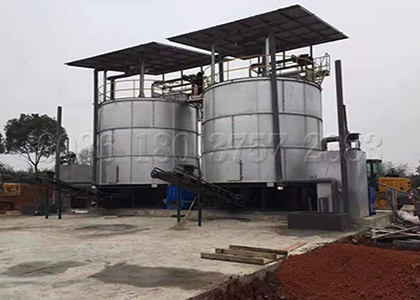 Besides, if you are going to get rid of your organic waste through the earthworm, you should have a bed for preparing earthworm litter. Thus, what you need to do is making an organic waste composting bed.
Dewatering machine. If your organic waste is animal waste, sludge waste or some other waste, which are high moisture, it is essential for you to equip with a dewatering machine for lowering their water content. There are two types of organic waste dewatering machines in Shunxin for you to choose. The screw press solid-liquid separator uses screw press force for separating liquid from solid organic waste. It is applicable for you to dewater both animal waste and sludge waste. Besides, you can also choose our screening type dewatering machine.
Organic waste compost turner machine. Making organic waste composts is aimed at decomposing organic matters and killing harmful bacteria. For making compost bed for vermicomposting, it is necessary for you to use our organic waste compost turning machine. Different from the ordinary composting, you do not need to finish the whole composting process. You should turn the organic waste compost regularly to keep its temperature between 55°C-70°C for 3 days.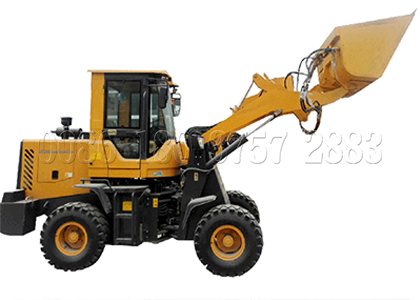 Organic waste compost turner machine for sale
Model: SX-300
Color: Yellow(can be customized)
Size: 4930*1620*2660mm
Application: Turning organic wastes piles
Feature: Also can be used as a forklift
How to use industrial vermicomposting equipment for making fertilizer pellets?
When you get vermicomposting, it is time for you to making them into fertilizer pellets. While, there are some processes you should do.
Crushing vermicomposting into powders by pulverizer
Granulating vermicomposting requires powders as material. You can use our fertilizer crusher for pulverizing. Shunxin has semi-wet vermicomposting crushing machine and vertical pulverizing equipment for you to make fine powders. Especially, the semi-wet crusher uses double rotors for pulverizing. Thus, the materials will be crushed twice. Then you can get fine fertilizer powders.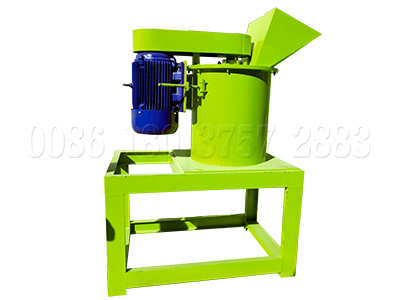 Vertical vermicompost pulverizer for sale
Model: SXFLF-600
Power: 22kw
Capacity: 3-5t/h
Size of Feed Port: 400*400mm
Overall Size: 1300*750*1900mm
Using a mixer for mixing vermicomposting powders evenly
After the crusher, a mixer will be helpful for you to make powders uniform. For your large production requirements, we have double-shaft dry powder mixing machine for you to choose. Besides, our pan vermicomposting mixer can not only mix, but also be used as feeding machine.
Powdery vermicompost mixing machine for sale
Model: SXSJ-8030
Power: 11kw
Mixing Shaft Outer Diameter: 420mm
Stirring Speed: 35(r/min)
Dimension: 3700*800*750mm
Granulating organic vermicomposting powder into pellets
Granulating is a key process in fertilizer production line. For your vermicomposting requirements, there are disc pelletizer and our patent fertilizer granulation machine for you. Especially, our new products, organic fertilizer dedicated granulator can make your organic vermicomposting with high granulation rate. Meanwhile, the pelleted fertilizer can realize pure organic matter.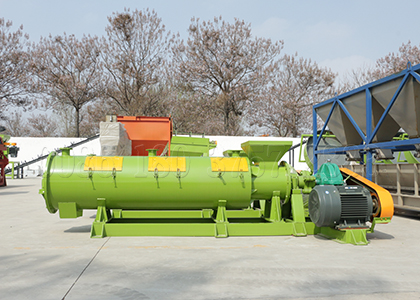 earthworm fertilizer pellet making machine for sale
Model: SXJZ-800
Installation Angle: 2°-2.5°
Capacity: 1.5-2.5t/h
Total Power: 55kw
Dimension: 4250*1850*1300mm
Application: making organic pellet fertilizers
Drying, cooling and screening
Granulating makes pellets be high temperature and high moisture content. If you equip with our drying and cooling machine, you can dry and cool them high efficiently. Besides, for selecting the unqualified vermicomposting pellets, there is a screener for you. You can re-crush the unqualified pellets and re-granulate.
Screening machine For sale
Model: SXGS-1020(can be customized)
Power(kw): 3
Reducer Model: ZQ250
Drum Speed(r/min): 21
Capacity(t/h): 1-2
Production of bio-organic fertilizer by vermicomposting with industrial vermicomposting equipment
Shunxin vermicomposting equipment can not only be used for making organic vermicomposting fertilizer, but also suitable for produce bioorganic fertilizer.
For making bioorganic fertilizer with earthworm compost kit, you can add bacteria into organic waste when fermentation. Doing this, it will not generate stinks when ferment animal waste. It is suitable for you to add bacteria when you use our tuning machine. There is a spraying device installed on the compost turner machine. You can add powdery bacteria or liquid bacteria into it for spraying.
Besides, it is applicable for you to add bacteria during the granulation process. Whether you use Shunxin pan vermicomposting granulator or patent granulation equipment, you can add liquid bacteria into powder materials for better granulation. Because these two machines employ wet granulation technology.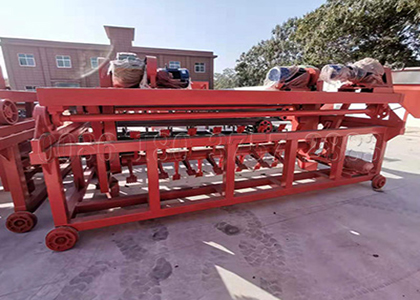 How long will it take if you use industrial vermicomposting equipment for making fertilizer?
Vermicomposting making time mainly depend on the organic waste compost time and earthworm poo generate time.
Making vermicompost, you should make an organic waste compost firstly. However, it doesn't need to finish the whole fermentation process. Generally speaking, if you use Shunxin compost vermicompost machine for finishing the whole fermentation, it will take you about 15 days. While, making compost bed for vermicomposting, it needs about 7 days. Because it takes about 3-4days for getting materials temperature 55C°-77 C°. And then you should turn these compost materials for keeping this temperature 3 days.
After the semi-fermentation, you had better make materials temperature 30 C° so that the earthworm can survive. Then you just need to wait for earthworm eat up the semi-fermented organic compost and produce feces. For example, if you finish the whole compost process in 15 days, it may take you 7 days for getting earthworm litter.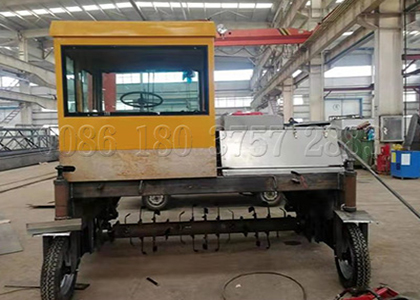 Vermicompost machine for sale
Model: SXLDF-2300
Turning Width: 2.3m
Turning Height: 0.6-1m
Row Spacing: 0.8-1m
Power: 75kw
While, if you use earthworm waste as materials for making organic fertilizer pellets, it only takes you several days (10 days to 20 days) for composting the animal waste. And then you can granulating and process the pelleted organic vermicomposting.
How to establish a vermicompost project?
If you are going to start a vermicomposting fertilizer pellets making plant. Here are some conditions, which you should have.
The organic waste for making compost bed
You should have an organic waste supplier for supplying your enough materials so that you can make compos for vermicomposting. It is suitable for you to cooperate with a chicken farm, cattle farm or some other animal farm. These farms can provide you a lot of organic waste regularly. Or you can also use the MSW, organic sludge waste, restaurant residues, etc. These are good materials for you to making organic compost bed.
Organic vermicompost fertilizers granules making machines installs in our customer's plant
Lots of earthworm
Making vermicomposting, the earthworm is essential. Thus, you should have lots of earthworm for eating your organic compost and produce organic feces.
A set of industrial vermicomposting equipment
Besides the materials, a set of high-quality industrial vermicomposting equipment are important. With high quality commercial vermicomposting systems, the quality of pelleted organic vermicomposting fertilizer will be high, too. Shunxin equipment manufacturer has been manufacturing fertilizer equipment for many years. We have high-quality vermicomposting system for your reference. Meanwhile, we can provide you factory price. And if you need, it is available for customizing for you. Especially, we have sold commercial vermicomposting equipment for our customers. The equipment has gotten good reputations from our customers.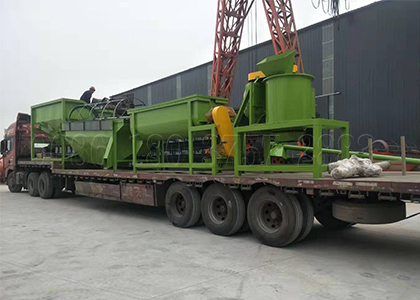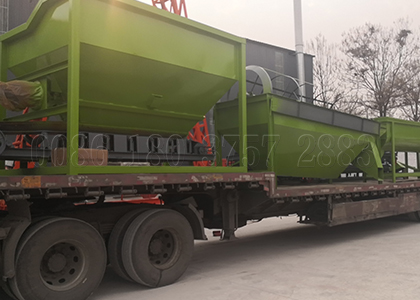 Affordable vermicompost machine price Shunxin provided for you
Shunxin Engineering Equipment Co., Ltd. is a professional organic vermicompost fertilizer equipment manufacturer. There are many types of equipment for you to choose. According to your different production capacities and budgets, we can provide you different vermicompost project proposals for your reference. Each of them includes different fertilizer equipment configurations. Meanwhile, the prices are different. For your small size plant, there are some key equipment for you to start your company. It can highly reduce your expense. And if you want to make high quality vermicompost fertilizers, we have complete commercial vermicomposting equipment for you to choose. Thereupon, the price will be higher.